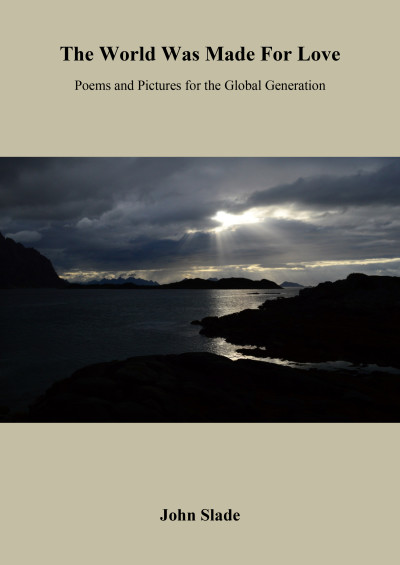 The World Was Made For Love
This unique book encourages young people to ask the Big Questions about the troubled world which they now inherit. The poems and the pictures encourage young people to think about the Big Picture, a very positive picture, full of hope.
Young people, reach with your minds around the entire planet, from the melting of the Arctic ice cap to the burning of the forests. Reach with your minds to the end of the 21st century, so that you can make it your century.
You have a choice. Either you can sit back and hope that someone else fixes all the problems. Or, you can join forces with your young generation around the world, discussing global problems and working together to develop global solutions.
You can join forces with clean energy companies which are already harnessing the sun and the wind, and the currents in the sea. You can join forces with a growing number of clean energy entrepreneurs, who are creating innovative products for a healthier world.
Yes, together, you can design and build the Renaissance of the 21st Century.
            John Slade was a student in California during the 1960s, when a multitude of students rose up and roared against the criminal war in Vietnam. His career as a teacher has taken him from classrooms in California, Illinois and New York, to classrooms on the island of St. Croix in the Caribbean, to classrooms above the Arctic Circle in northern Norway, and even to universities in Saint Petersburg, Arkhangelsk and Murmansk, Russia. He believes deeply in the talents, the determination, and the dreams of young people around the world.
You are the First Global Generation in Human History. May the poems and the pictures in this book be a springboard for great classroom discussions. And may they help you to find a purpose that will guide you, as you become architects of a healthy world, and architects of peace.
---
Book categories: Climate Change and Clean Energy