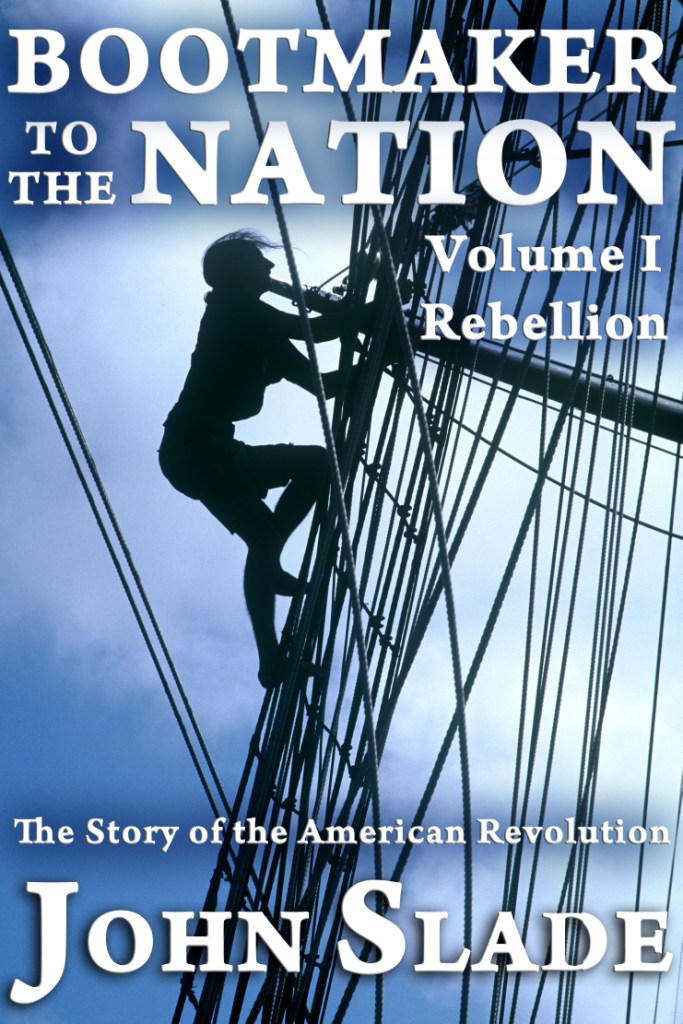 Bootmaker to the Nation: Volume I: Rebellion
Volume I takes the reader on a turbulent ride through the rebellious decade leading up to the Declaration of Independence.
Benjamin York, an apprentice shoemaker in London, is impressed into the British Navy in 1774 and forced to sail to Boston. He becomes a "topman", working high in the rigging. (John Slade worked in the topmost rigging of a square-rigger for ten days, and one wild night, in order to be able to tell you this part of the story.)
Genevieve Byrnes, a farm girl from Massachusetts, grows up hearing about the turmoil in nearby Boston. She becomes, like her father, an expert rider, galloping along the back roads of her explosive colony. (When the time comes, she will ride as a secret agent for General Washington.)
In Boston, Benjamin is forced to become a redcoat. He marches to Lexington and Concord, fighting the opening skirmishes on the British side. Captured by the Americans, he meets Genevieve and her brother Henry, a Minuteman.
Out of rage for what the British have done to him, Benjamin joins the American Army. (He and Genevieve will serve General Washington for the next eight and a half years, through every battle, every winter encampment.)
* * * * * * * 
BOOTMAKER TO THE NATION, an ebook trilogy, dramatizes the Revolutionary War so vibrantly that people who "hate history" will find themselves totally immersed in the saga of America's creation. Fifty years after the Declaration of Independence, two white-haired patriots take turns telling their epic story, Benjamin from the battlefields, Genevieve from Washington's headquarters.
---
Book categories: American Revolution